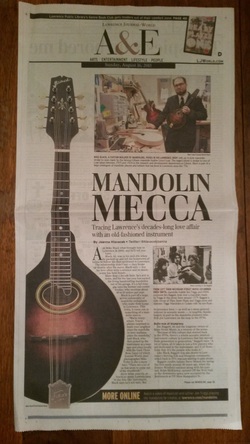 ---
Interview for Mel Bay's Mandolin Sessions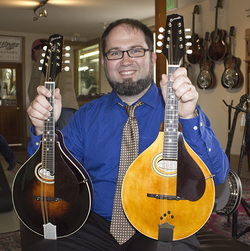 Interview: Mike Black Mandolins
by Joe Mendel
Mike Black is getting a lot of attention these days for building oval hole mandolins based on the time tested design of vintage Gibsons, with a few of his own twists thrown in to make them his own. He does build A-5, piccolo, and octave mandolins, as well, but the oval holes are his main focus. Mike not only builds fine mandolins, he plays them quite well, he is the 2004 Kansas State Mandolin Champion and is a founding member of Three Bean Salad. On top of that he is a songwriter also? He and his wife have written many of the songs on Three Bean Salad's CD's.
Joe Mendel:
Hi Mike. How did you get started playing music? What was your first instrument?

Mike Black:
I first started playing the trumpet in the 6th grade, so I got some basic reading skills from that. I then traded that trumpet in and bought a Stratocaster in high school.

JM:
What caused you to move from electric guitar to mandolin?

MB:
After my father went to the Walnut Valley Festival in Winfield, KS in September of 1991 he wanted to learn the mandolin, so we bought him one for Christmas. At the time we bought the mandolin there was a magazine that had the music/tab to Grateful Dawg, from the first Garcia/Grisman album, and I figured that I'd learn it in about hour and move on, I was sorely mistaken. J So, as with a lot of people, it was David Grisman that lured me over to the Mandolin.
One of the main reasons I moved from the electric guitar to the mandolin was that I was able to play the things that I hear in my head, and that it was very portable and could be just as powerful as an electric guitar.

JM:
What made you decide to try your hand at building instruments? What was the first instrument you built?
MB:
The main reason was lack of money. I wanted a lot of different instruments but couldn't afford them all, I figured that I'd just make them. I first built some tiny pine Stratocasters with painted on strings when I was younger. Then in high school shop I built a Gibson Explorer. Most of my early knowledge came from Melvyn Hiscock's "Make Your Own Electric Guitar" book. It's still a great book!
JM:
How did you wind up repairing at a music store & how long did you do that?

MB:
I started doing repair work at a small family owned store called Crossroad Music in Salina, Ks for about 2 years. I started mostly with your standard maintenance…string changes, new nuts, fix wiring. Then fret dressing, re-frets,neck resets. The owner was real big on repairing things and making sure that they were set up and played so they can be played. I really got a lot of experience repairing things that a lot of people would throw away, into something that was a valid player piece. Later on I also worked with Steve Mason here in Lawrence, KS doing work on nicer instruments and a lot violin repair for a couple of years before I started building. Working with Steve, I also got my first experience working with hot Hide Glue. I've been working on incorporating more and more Hide Glue in my mandolins.
JM:
What are the advantages of hot hide glue over other adhesives?
MB:
One of the advantages of hide glue is that it's always fresh when you use it. Most advantages of hide glue have been with violins and the ability to take things apart and put back together easily. With mandolins you typically don't take them apart, but if you do ever have to repair something it can be done more easily. The biggest disadvantage is that everything has to fit perfect without the glue since hide glue doesn't have the filling properties as other adhesives, hide glue shrinks and pulls the pieces together as the water evaporates and it hardens. One of the learning curves I had with hide glue was to leave it alone after gluing it. I'd think that there was a gap in the seam and I'd take it apart unnecessarily.
JM:
Was the repair experience helpful to building instruments?

MB:
One of the main things that my early repair work has done for me now was to hone my fretting skills.

JM:
How did you get your apprenticeship with Paul Schneider of Summit Mandolins?
MB:
I asked. J I wanted a nicer mandolin than my old Hondo Mandolin and I called and asked if he needed any help after seeing a sign up in the music store where I worked. He told me that he was thinking of quitting his day job for the airplane manufacturer and might need help. A month later I was there. Basically it was more of a barter type system. I'd get to make myself an instrument while helping him build.

JM:
Paul was just starting to build on his own back then, though he had quite a bit of experience. What was it like working for him?
MB:
It was very laid back. I started out doing a lot of the grunt carving of the top and backs. So I got a lot of experience on grain orientation and how it will look like after it's carved. I ended up doing about everything there except spraying the finish. It was a very enjoyable experience during a rough time in my life. The experience I received has been priceless.

JM:
Nothing beats experience, what are some of the most important lessons you learned from Paul?

MB:
How getting the final graduations on the top and back are very important! You can make something to make the job a lot easier. Using a duplicating carver is the only thing that I do now that I did while working with Paul. Someday I might use it to its full potential, but for now I just use it to remove the majority of the wood and get it to the basic shape of the outside contours.
JM:
Do you build in batches?
MB:
I'm starting to build in small batches of 4, but I still tend to really only work on two at a time. Now I've gotten to a point where I make several of the same pieces at the same time for future builds, for example I'll rough carve an extra back or make a couple extra necks blanks when routing the truss rods.
JM: Do you have more than one type of instruments in process at the same time?
MB:
Right now I have two A4s, two A5s and an Octave in progress.
JM:
How large is your shop and what types of tools and equipment are found there?
MB:
It's a small shop that's basically just the back wall of my garage. My wife's car still goes in the garage, but mine has been kicked out since I recently purchased a drum sander (not sure how I got along without it now). I also have a re-saw bandsaw, table top belt sander and drill press. Other than that I also found a duplicating carver on Craig's List that I've started using to rough out the top and backs. My pair of D'Angelico planes and Veritas NX60 block plane are my favorite tools to use. Oh, and a sharp pencil! :)
J
M:
What Types of woods do you use for your mandolins?
MB:
I use big leaf maple for the backs, For the A4s I use Engelmann Spruce for the tops, for the A5s I use Adirondack Red Spruce for the top.
JM:
Have you used Birch or mahogany like on many of the old Gibsons?
MB:
I haven't used Birch. I've used some plain wide grain maple that looked similar to birch. I do usually use mahogany for the necks on the oval hole A4's, like many of the old Gibson's, unless maple is requested.
JM:
What is your favorite part of building?
MB:
Making wood chips and shavings, and also hearing what that piece of wood can do once it's strung up.
JM:
What type of neck joint and neck re-enforcement do you use?
MB:
I use a straight dovetail neck joint. As for neck re-enforcement…It must be from my repair years, since I've gone a little overkill on the truss rod by using a 2-way adjustable truss rod. I like the adjustability of the 2-way truss rod.

JM:
Do you still do repair work?
MB:
No, not usually. But I will for the ones that I build. Since they are guaranteed for the life of the maker. :)

JM:
Are you currently taking orders? How long is the wait for one of your Octaves or mandolins?
MB:
I seem to have a hard time saying no. So I've got a short list going for orders.
Since I'm only building in my spare time, nights and weekends…the wait time is about 9 months to a year, but hopefully sooner. Since I try to put as much of myself into these mandolins, the one thing that I'm trying to avoid is stress. I've tried to take on a policy that alleviates that pressure to finish it on a certain timeline. I'll take on a build for a mandolin, but not take a down payment until the instrument is in three dimensional form. That way we both can have a clearer idea when it will be done.
JM:
How many mandolin models do you build and what do you get the most orders for?
MB:
Three and a half. Originally I thought that I'd only just make Guitar-Body Octave Mandolins and make that my niche, but I had a nice 1923 Gibson A4 snakehead that was loaned to me that I fell in love with. So I decided that I'd make a copy of it. When I took it over to Scott Tichenor (owner of MandolinCafe.com), he thought that I really should be making those. So from his suggestion I also started building A4s. Since the Loar A5 is another instrument that most people will never get a chance to play, and it uses the same body as the A4, that just seemed to be the next logical step. The half is a piccolo mandolin. That started from a joke from a friend of mine when he asked me if I was going to make a piccolo mandolin for my then unborn son. It took a few weeks before it sunk in and I had to do it. I'm currently working on designing an A4 & A5 piccolo as well. I just haven't had much time to work on those lately
.
JM:
What type of finish do you use?
MB:
I use a shellac sealer coat and then brush on five coats of Spar Varnish and then apply a French Polish of shellac as a final coat for the shine.
JM:
Are there any other instruments you'd like to try your hand at building? How about variations on the mandolin that you haven't done yet?
MB:
Of course. Most will probably be just for myself since there are still a lot of instruments that I'd like to have. I have an electric tenor guitar, that is based off of Frank Zappa's "Baby Snakes" SG, that I have in the works. I'm also working on a pair of ukuleles for my son and nephew, based on my octave body style. I've also wanted a nice Mandola for a long time, so who knows on that one.
JM:
Thank you for taking the time to be interviewed. I've heard some good things about your instruments from owners. Next time I make it to Winfield, or Lawrence I'll have to look you up, I'd love to meet you in person and check out your mandolins and octaves, and it would be great to hear Three Bean Salad again.
Mike can be contacted through his website:
http://www.threebeansalad.net/Mandolins.html
http:// www.facebook.com/Mike.Black.Mandolins
---